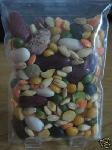 8 Bean Mix
Organic eight been mix. Inside each packet are the following beans:

Kidney, Red Lentils, Green Lentils, Yellow Lentils, Barley, Navy Beans, Black Beans and Pinto Beans. Hermit crab food

You may crush these and give them dry or cook them and give them to your hermit crabs that way. It is a great source of protein for them.